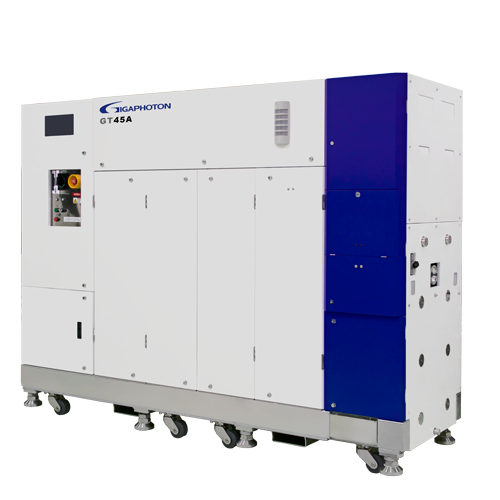 The GT45A Adopts Cutting-Edge Technology and High Functional Augmentability to Realize Further Productivity Improvements (Wafer Output)
The GT45A is based on the cutting-edge GT65A light source platform for ArF immersion, and is a model prepared for high functional augmentability.
Equipped with the latest model modules for "high availability" and inheriting "helium free" technology from the current model GT40A, improved productivity and environmental load reduction are simultaneously achieved.
It meets a wide range of customer needs with improved spectral width stability, variable technology and a maximum possible output of 90 W.
---
Benefits
Extended module lifespan
The module lifespan extension technology introduced and achieved with the GT65A is equipped as standard. Contributes to decreased maintenance frequency and improved productivity.
High functional augmentability
Functions and technologies that can be used with the GT65A can be equipped.
Improved CD uniformity through increased spectral width stability
Compensates for differences in contrast performance in various generations of exposure machines with variable spectral width technology
Further productivity (throughput) improvements with an oscillation frequency of 6 kHz and a 90 W maximum high output
Data collection, monitoring and analysis through sMonitoring
General Specifications
| Item | Value* |
| --- | --- |
| Wavelength | 193 nm |
| Average Power | 45 – 90 W |
| Pulse Energy | 11.25 – 15 mJ |
| Max Repetition Rate | 4,000 – 6,000 Hz |
| Bandwidth (E95) | ≤ 0.5 pm |
(*) Each of the above specification values represents a typical value.